About Us
Choose us for your quality source of Granite, Marble and Quartz 
We have been serving the needs of customers since 2004. We are a full service granite, marble, and quartz fabrication and installation company.
Estimates are free! We cover the entire central and eastern Kentucky area! Invite us into your home or business today and let's beautify something together!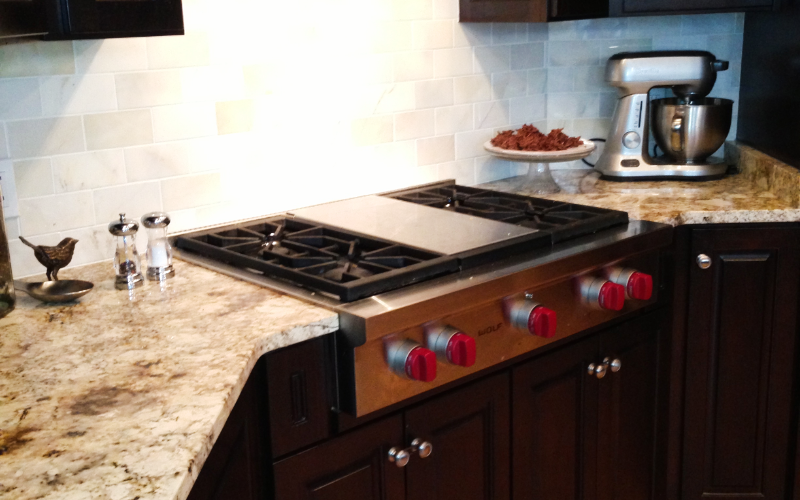 Kitchen
Stone countertops in kitchens are the primary location for granite, quartz and marble in most homes. It provides a beautiful and worry free surface for your family's day to day needs.
Bath
Many people today have lived in their homes for years and realize it's time to update their bathroom surfaces. Granite, quartz or marble is perfect for that bathroom remodel your family deserves.
Commercial
No job is too large. Compton's services a wide variety of businesses including banks, hotels, event spaces, medical offices and even our small local craft beer brewery. We can provide custom service for any commercial space. 
Learn More About
Granite, Quartz & Marble
Granite
Granite has a rich beauty that few other countertop materials can match. It is a natural product with a timeless aura and appeal. Granite countertops take a high-quality kitchen to the next level visually and often become the centerpiece of the room. With so many choices of granite to work with, you'll find one that blends perfectly with your kitchen cabinets, flooring and walls.
Granite is a very hard substance and is not susceptible to scratches. Granite resists heat as well, so its use near a range or cooktop is ideal. Granite can take heat without being damaged or weakened.
Granite can be very resistant to stains and won't absorb liquids when it is properly sealed.
Marble
Marble countertops come in a variety of types, prices, qualities and colors so doing thorough research will help you find the best marble for your needs. Marble has endless variations because of factors like where it's sourced, its impurities, patterns, colors and veining. Colors can range from white to black to pink to green.
Nothing can rival the look of marble kitchen countertops. There's a richness to them and a character to the stone that others can't touch. But what usually arouses people about marble countertops is the veining. Marble remains cool naturally, which makes it a great surface for baking or other cooking.
Quartz
Because of its strength and abundance, quartz is a popular and reliable choice for countertops. One of the main benefits of quartz countertops is that they are extremely durable. Quartz countertops never have to be sealed, unlike granite, marble, and other surfaces that require regular maintenance. Quartz countertops are also nonabsorbent, so they resist staining and don't harbor harmful bacteria. Homeowners and designers also turn to quartz for its versatile and beautiful designs, colors, and patterns.
Quartz is a truly maintenance free surface for indoor use and is not recommended outdoors.
"We undertook a large out-of-town renovation project near Lake Cumberland last year and were so fortunate to find Compton's Custom Countertops! Their selection was extensive and Brad guided us in making great choices for each room. Delivery and installation was professional and on time. Dont hesitate to use Compton's!"
– Stewart and Tamara Lovdal (Cincinnati, Ohio )
"My experience with the team at Compton's Custom Countertop was phenomenal. From picking the perfect material to installation, they were professional, efficient and a pleasure to deal with. Thanks to them, my kitchen and baths turned out perfectly, and I would recommend them to anyone!!"
– Hilma Prather (Somerset, KY)
"Compton's Custom Countertops was so easy to work with throughout the whole process. Being out of town, they gladly sent us sample pieces of granite and came quickly to provide an estimate. The final product was wonderful & the staff remained professional. We cannot wait to have a new project & work with Brett, Brad & the rest of the staff again."
– Tonya Jernigan & Matthew Stinnett (Lexington, KY)
"I enjoyed working with Brad and the other folks at Compton's. They gave me all the information I needed in order to make the best decisions on my kitchen remodel. I am very happy with their work and I smile every time I walk into my kitchen!"
– Connie Rakestraw (Somerset, KY)
"Compton's was great to work with while designing a complete kitchen remodel at my client's home in Lexington.  They installed the granite exactly when they said they would.  The job turned out beautifully, and for a lower price than what was quoted by Lexington suppliers."
– Ron Robinson, R G Robinson Interiors (Lexington, KY)
"Compton's does a great job in their work for me. It was on schedule and Brad Schoolcraft is very professional in working with customers."
– Bill Turpen, Turpen Builders, Inc.
"I never realized how much granite countertops could change the whole atmosphere of our kitchen until doing business with Compton's! Not only did we get the best price but quick service of installation!!"
– Debra Johnson (Somerset, KY)
"I love my new granite countertops! Compton's did a great job. They were thorough and efficient."
– Mary Lou Priddle (Somerset, KY)
Are you ready?
Contact us
We will make your kitchen or bath project easy for you. In most cases, we are in and out of your home or business in one day!
Call us day or night to schedule your quote! Thousands of customers are already happy!